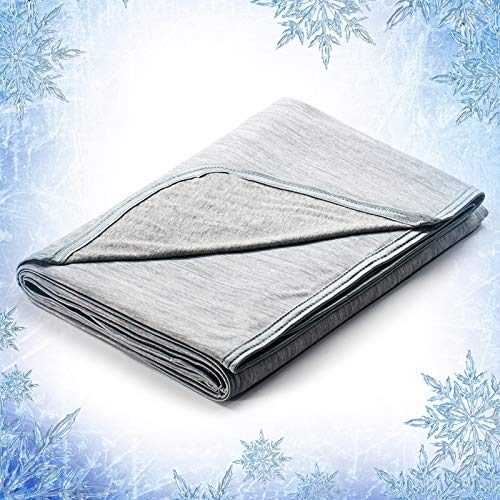 ELEGEAR REVOLUTIONARY QUEEN SIZE COOLING BLANKET ABSORBS BODY HEAT TO KEEP COOL ON WARM NIGHTS. ARC-CHILL COOLING FIBER, 100% COTTON BACKING BLANKET
Brand: ElegearColor: GrayFeatures: KEEP YOUR COOL ALL NIGHT, even in warm and hot summer weather — uses our special Japanese Q-Max 0.4 Arc-Chill Cooling Fibers to brilliantly absorb body heat,...
Brand: Elegear
Color: Gray
Features:
KEEP YOUR COOL ALL NIGHT, even in warm and hot summer weather — uses our special Japanese Q-Max 0.4 Arc-Chill Cooling Fibers to brilliantly absorb body heat, reducing skin temperature by 2 to 5°C instantly. (Other companies' cooling fibers only have a cooling value of 0.2). This blanket makes you cool and comfortable without perspiration. You wake rested, refreshed and comfortably dry — no sticky feeling!
DOUBLE-SIDED: The top is a fabric woven with Arc-Chill cooling yarn, which can quickly transfer moisture from the skin to the surface of the fabric and quickly evaporate, so that the human skin is dry and comfortable, and has a cool feeling, very suitable for hot summer. Natural 100% cotton on the bottom inside is perfect for spring and autumn. No wonder this blanket feels so nice against your skin! You can fall asleep in total cool comfort.
VERSATILE USAGE SCENARIOS: This blanket measures 79" x 86" — just right to fit a Queen or King bed. Use these blankets for your kid's room, for camg, in the car, for travel, on airplanes — bring our sleep blanket anywhere you pinwant extra softness and comfort for an afternoon nap. Perfect for indoors, outdoors, and anywhere you want a comfortable blanket to keep you warm or cool.
EASY TO CARE FOR: These blankets are fully machine-washable. (Put the blanket inside a laundry net bag, to prevent entanglement and damage: keeping your blanket fresh, clean, and always odor-free.) These blankets are just right for spring and autumn when temperatures can go from cool to warm. This is the ultimate multi-purpose cool/warm blanket for all uses and occasions.
THE ULTIMATE SOLUTION TO A FULL NIGHT'S REST: The high quality of this blanket ensures it will quickly become your favorite no-risk purchase. Many people are stocking up with several to outfit their home, to carry one in the car, and to keep another at work. HURRY AND BUY NOW while we have this exceptional new cool technology in plentiful supply. This makes a fine birthday gift, holiday present, Christmas gift, Valentine's Day gift, anniversary gift, or Father's Day or Mother's Day gift.
Part Number: C02A-Gray-HWCQK
Details: PRODUCT FEATURES Advanced Cooling Blanket Made of Japanese Cooling Fiber 80% mica nylon, 20% polyethylene top side Absorbs body heat to keep you cool Great for summer, fall, spring Sleep comfortably for a full night's rest 100% natural breathable cotton on bottom side Size is 78" X 86" for queen & king sized bed Great for travel, camping, sports Very durable and long lasting Easy to care for, machine washable 100% WORRY FREE AFTER- SERVICE ensures this will be your best bet for a pleasing no-risk purchase. Many customers are so thrilled with this revolutionary blanket they return to buy several more. HURRY AND BUY NOW while we have a new shipment just in. This makes a much appreciated gift for friends, family, co-workers, Father's Day, Mother's Day.
Package Dimensions: 13.0 x 5.7 x 5.7 inches