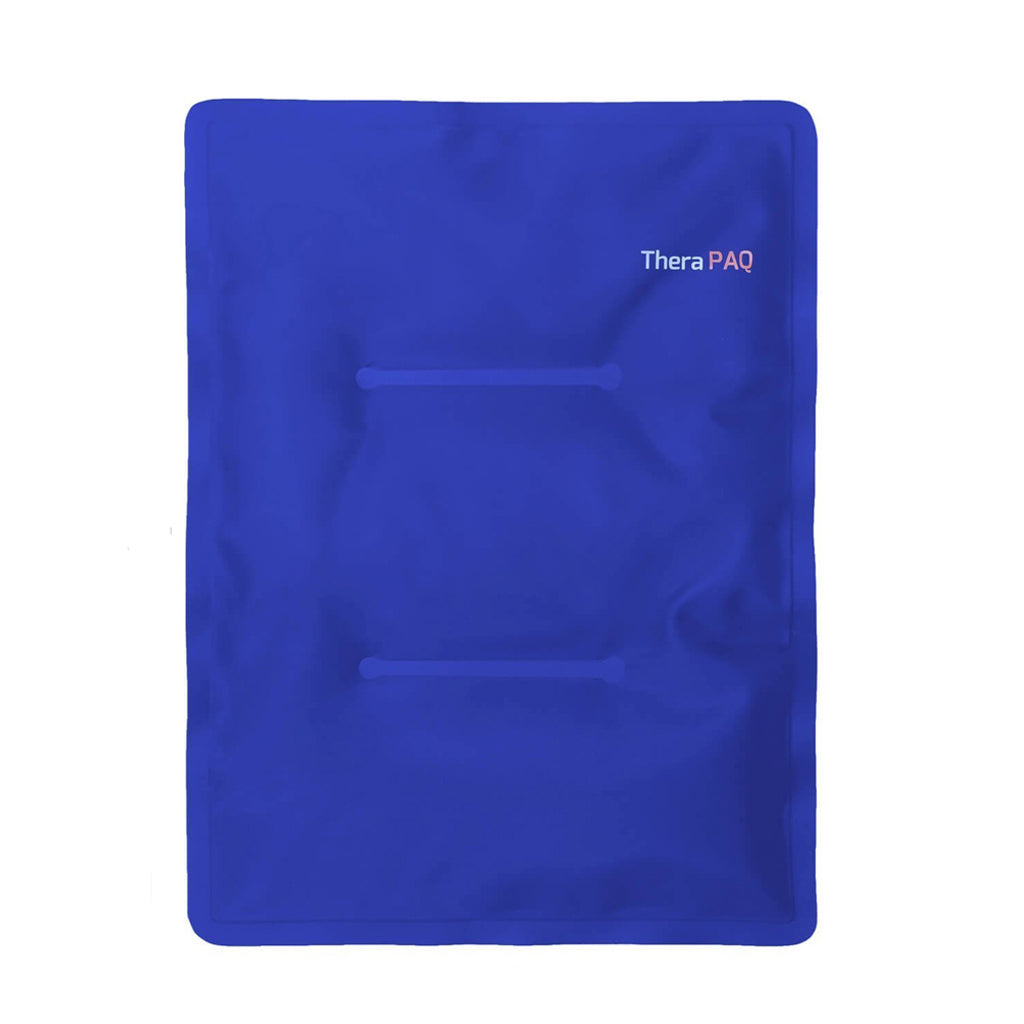 Large Reusable Gel Ice Pack with Wrap
Whether you are suffering from aching knees, sports injuries, muscle pains, stiffness or limited movement that comes after a surgery, this ice gel pack is the answer to your problem!...
Whether you are suffering from aching knees, sports injuries, muscle pains, stiffness or limited movement that comes after a surgery, this ice gel pack is the answer to your problem!

Choose cold or hot therapy depending on your preferences and needs.

The icy cold or soothing warm gel pack will help you alleviate any pain and discomfort effectively.

In addition, the extra-large size and adjustable, elastic hook-and-loop straps will provide the perfect fit, nicely hugging any body part and targeting any aching area.
RELIEVE PAIN, ENJOY FULL MOVEMENT RANGE AND DO YOUR BEST: Whether you are an athlete, a fitness enthusiast or someone who has a busy everyday schedule, you know that injuries and body pain can be a great setback. From now on, you will be able to combat and relieve muscle pain, aching sprains, swelling, arthritis, post surgery, joint pain and injuries at the comfort of your own home! All you need is this top notch ice gel pack with wrap.

ENJOY COUNTLESS POSSIBILITIES: The TheraPAQ hot and cold therapy ice gel pack can be used for many different purposes! Its size and the high quality construction allows you to wrap it around your shoulder, knee, hip, thigh, calves, shins and any other body part you wish to relieve! Just microwave or freeze as needed.

PICK HOT OR COLD THERAPY AND SAY GOODBYE TO DISCOMFORT: This must have gel pack can be used both for hot and cold therapy, allowing you to pick whichever you like best! Whether you prefer to freeze pain away or soothe it with the help of the alleviating warmth, this gel pack is the perfect choice for you! Get ready to relieve pain and feel ready to seize the day.

A COMPRESSION WRAP THAT WILL PERFECTLY EMBRACE YOUR BODY: Forget about small, tight therapy wraps that make you feel uncomfortable! This amazing reusable ice pack for injuries comes in a carefully designed wrap which is bound to keep you relaxed and happy while boosting the therapy pack's effectiveness. The elastic hook-and-loop straps can be easily adjusted, while the extra-large size can assure the perfect fit for any body type.

ORDER NOW WITH PEACE OF MIND knowing that we have a 100% MONEY BACK GUARANTEE, NO QUESTIONS ASKED, NO CATCHES! We stand above and beyond for our customers. If you're not thrilled with your purchase for any reason, just tell us and we'll refund 100% of your purchase price - anytime!

IDEAL GIFTS for Black Friday, Cyber Monday, Prime Deal Day or Christmas.
Indications
Useful for: general muscle aches and pains comfort, arthritis, chronic fatigue syndrome, fibromyalgia, neuralgia, athletic sport sprains / strains, sleep, shoulder and neck pain, Lumbar strain, Coccydynia, abdominal cramps, hip bursitis, spasms, throbbing, stiffness, Osteomyelitis, herniated / slipped disk, Spinal Stenosis, Osteoarthritis, pinched nerve, post-surgery, bruises, sprains, strains, knotted muscles, inflammation and tightness. Useful for exercises, sports and general relaxation

Ingredients
Gel Pack is made of non-toxic gel filled in a leak-proof, flexible plastic
Directions
HOT APPLICATION
(1) Hot Water Method: boil water in pot, remove from heat and immerse gel pack for approx 8-10 min; remove, wipe it off, check temperature & use.
(2) Microwave Method: flatten gel pack, heat at full power for 30 seconds, knead and check temperature & if more heat is needed, heat more for 10 seconds at a time. If gel pack is frozen, we recommend to bring it to room temperature first.
COLD APPLICATION
Store the gel pack in the freezer for at least 2 hours. 
TheraPAQ