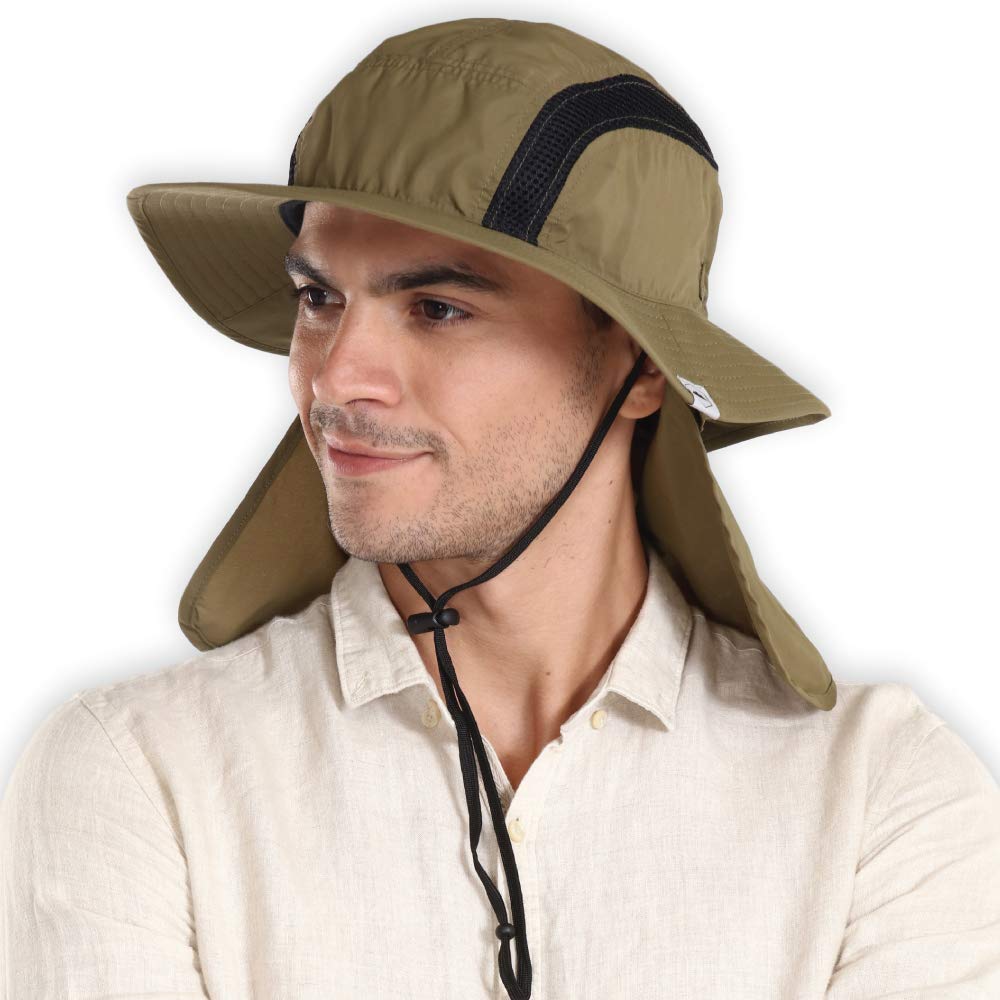 Outdoor Boonie Sun Hat for Men & Women - Wide Brim Summer Hat with Packable Neck Flap for Sunburn & UV Protection - Bucket Hat for Fishing & Hiking.
Brand: Tough HeadwearColor: Army Green - With Neck FlapFeatures: 🔥 ULTIMATE SUN PROTECTION - Handle the heat! Get ultimate UV protection with these UPF 50 boonie hats from TOUGH. Hiking...
Brand: Tough Headwear
Color: Army Green - With Neck Flap
Features:
🔥 ULTIMATE SUN PROTECTION - Handle the heat! Get ultimate UV protection with these UPF 50 boonie hats from TOUGH. Hiking in the sand dunes? Fishing in the delta? Simply pull the neck flap for best nape coverage in the scorching summer weather.
🔥 TWO-FOLD PROTECTION - Staying out for longer periods? Waiting patiently for that big catch? This boonie hat + neck flap combo allows you to do that. From flyfishing to hiking, thrive under heat-intensive weather with this neck-saving boonie hat from TOUGH.
🔥 SWEAT-FREE ADVENTURES - Do you sweat profusely? Worry not! Made using premium nylon, this lightweight boonie hat absorbs and wicks sweat quicker than cotton-based hats. It also dries quickly so you can use it when you need it. A perfect companion for your next outdoor odysseys.
🔥 TRAVEL-FRIENDLY - This summer hat is always ready and can travel with you anywhere you'll take it. Is your bag almost full? This solid brimmed hats can't be crushed but can rather be packed flat for easy storage. It's portable enough to fit in small bags or daypacks. Whether you're in an actual or concrete jungle, safari, canoeing, hiking or any outdoor activity, this hat is ready for that.
🔥 CUSTOMERS LOVE US & OUR LIFETIME WARRANTY - With over 7500 5-star reviews, our products are the #1 headwear of choice for Amazon customers. We are so confident that we've provided a LIFETIME WARRANTY & 100% SATISFACTION GUARANTEE on all our headwear. Beat that.
Publisher: Tough Headwear
Details:
Our Boonie Hat with Packable Neck Cover is your perfect outdoor partner for travelling, kayaking, camping, cycling, hunting, hiking, fishing, gardening, cookouts, staying on the beach, and more!

✔ Made with premium nylon making it lightweight, moisture-wicking, and quick drying.

✔ It offers ultimate sun protection. They shield your face, ears and neck from the sun and protect it from sun damage.

✔ With our sun hat on, you'll feel cool and dry even when it's hot. The mesh panels on each side also provide cooling air flow to help you feel cool and fresh outdoors.

✔ The neck flap is a nice addition to keep the harmful UVA and UVB rays of the sun from getting your neck sunburned.

✔ It has detachable chin strap to keep your hat securely fastened even when it becomes windy.

✔ It is travel friendly and easy to store.

We also offer a lifetime warranty for our hats. In fact, thousands of customers love us for it.

It's also unisex so it's a good gift for both men and women who love the outdoors.

Available in 4 colors: Dark Khaki, Dark Gray, Light Khaki, Army Green.

Get your Boonie Hat now while supplies last!
Package Dimensions: 16.1 x 13.5 x 1.1 inches