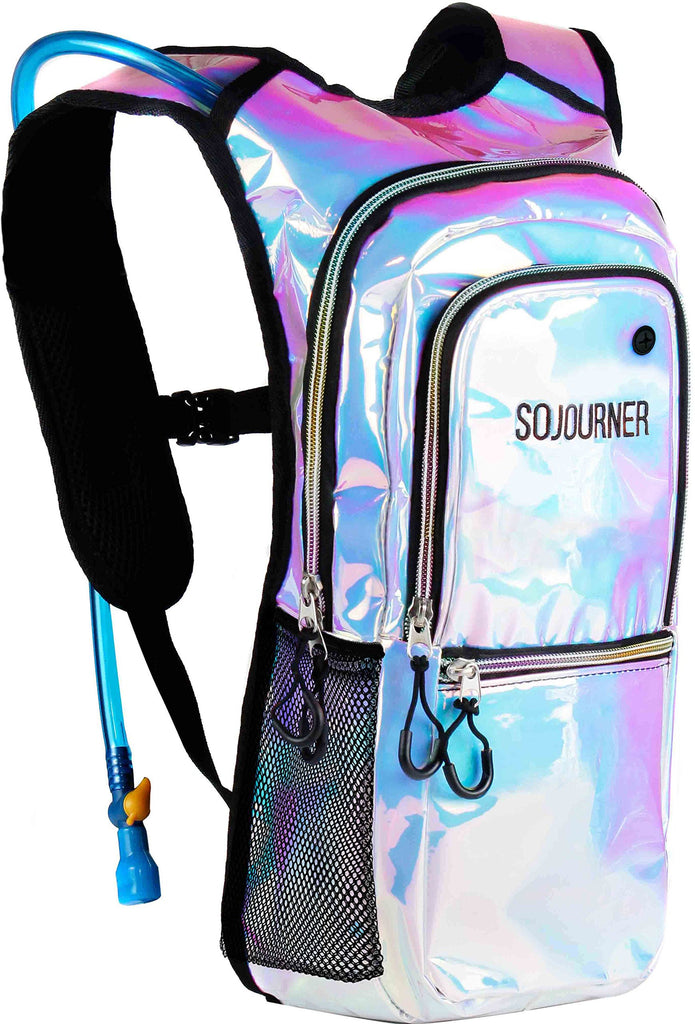 Sojourner Rave Hydration Pack Backpack - 2L Water Bladder Included for Festivals, Raves, Hiking, Biking, Climbing, Running, Etc (Holographic - Blue)
Brand: SoJourner BagsColor: Holographic - BlueFeatures: HYDRATION BLADDER INCLUDED = 2 Liter (0.5 Gallon) PVC & BPA FREE, ANTIMICROBIAL BLADDER made from food grade & FDA approved materials. Leak proof...
Brand: SoJourner Bags
Color: Holographic - Blue
Features:
HYDRATION BLADDER INCLUDED = 2 Liter (0.5 Gallon) PVC & BPA FREE, ANTIMICROBIAL BLADDER made from food grade & FDA approved materials. Leak proof and easily removable via the main pocket. Oversized 2-inch wide screw cap allows ice for an even cooler drink & makes cleaning easy. Complete with kink-free tube & soft high flow bite-valve with easy 1-handed shutoff button
FESTIVAL CHOICE = Bright colors, unique styles, hydration backpack specifically designed for those who want to stand out at their next music festival, rave, edm or edc event and anywhere else style is as important as function.
PERFECT FIT = water backpack for men, women, teens, and youth. Low-profile athletic cut is fully adjustable and fits all sizes comfortably. Comfort-stitched straps with high-density notched foam stabilizer rests on your shoulders and breathable light weight mesh covering means you can wear this pack for hours and not notice it's on
HIGH-QUALITY CONSTRUCTION AND DESIGN = Cushioned, breathable mesh back panel with quick drain drip hole. Extra padding for max comfort. Stay-put thumb adjustment loops for shoulder straps maintain your settings
Publisher: SoJourner Bags
Details:
SoJourner Bags Hydration Pack is the perfect all day hydration pack
Function & fashion all-in-one with SoJourner Bag's hydration pack collection. Designed to keep you hydrated & stylish for any hands-free occasion. Dance like there's no tomorrow, pump your bicycle peddles faster, go on adventures hiking through jungle trails all day without having to uncomfortably lug your drink around all day. Our detailed custom designs from the print themselves to the reinforced durable zippers make our collection the most stylish & durable on Earth.
Fit & Feel & Packed with High-end Features
With features normally seen on more expensive packs including a shock absorbing chest strap the Hydration pack is an extremely durable, ultralight minimalist hydration backpack that allows you to take your water & essentials anywhere. Designed with your comfort in mind, the water backpack has an athletic cut so it rides low & close to your body. It can be fully adjusted in the shoulder, chest, & waist belt for a customizable fit. Storage options include 2 spacious deep pocket zippered compartments with reinforced double stitching & nylon lining. Pockets can comfortably hold water bottles, iPhone 6+, keys, wallet, food, & whatever else you may be traveling with.
2-Liter (Half Gallon) Bladder Included
FDA & food grade quality with triple-heat sealed edges & large 2-inch opening for ice & making cleaning easy. Also includes a lightweight, durable, kink-free sip tube & push-lock cushioned bite valve & twist-lock to prevent leaks.
#1 Hydration, Fanny pack, & Bandana manufacturer in the USA
SoJourner Bags is the world's leading hydration pack, fanny pack, & seamless bandana manufacturer. With 100+ designs & counting, we are committed to creating new, fun, stylish, & exciting hydration packs for every occasion.
UPC: 618028859540
EAN: 618028859540
Package Dimensions: 17.1 x 10.0 x 2.6 inches