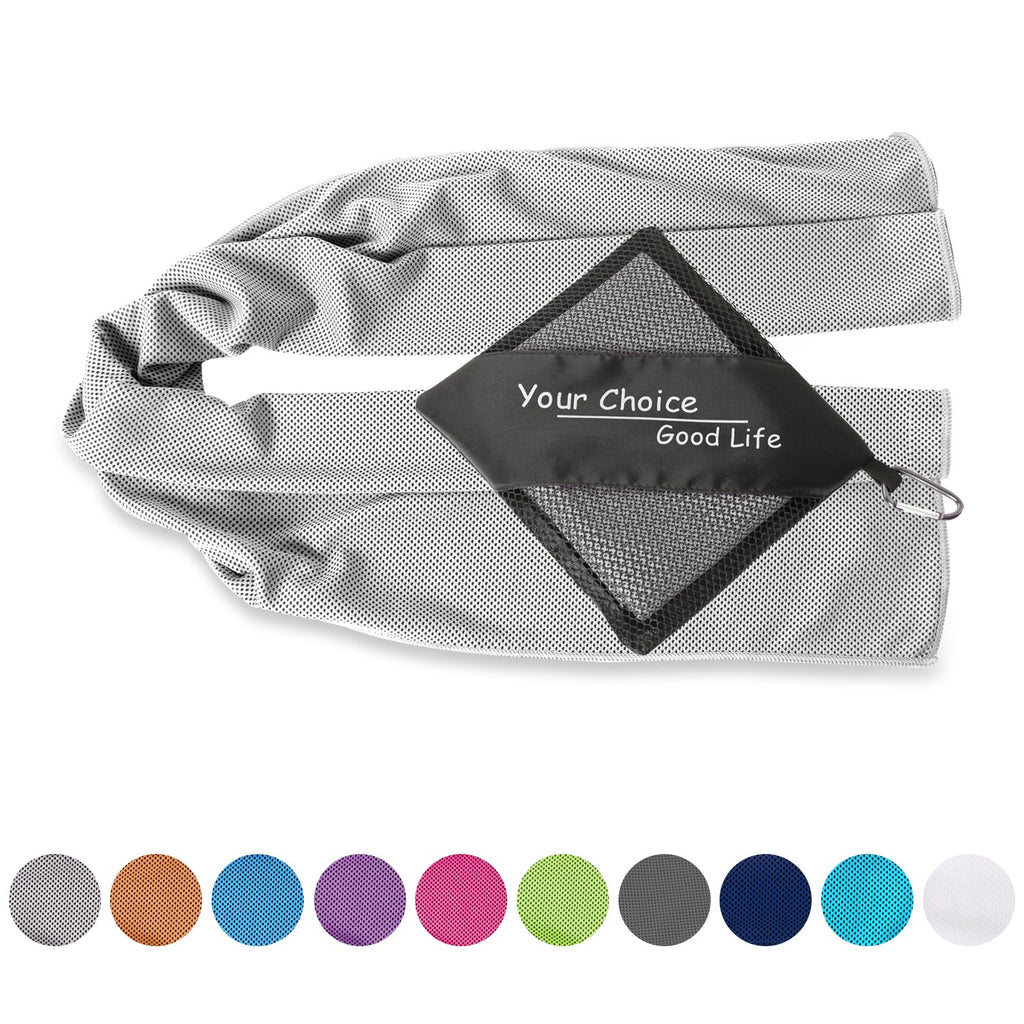 Your Choice Cooling Towel Snap Cooling Neck Wrap Cold Towel for Athletes Sports Golf Yoga Workout Outdoor Men and Women Gray 12 x 40 Inch
Brand: Your ChoiceColor: Gray(12" x 40")Features: INSTANT COOLING TOWEL- It's a magic towel chills instantly. Simply soaking-wring out and snap it, just a few seconds the chill towel will keep...
Brand: Your Choice
Color: Gray(12" x 40")
Features:
INSTANT COOLING TOWEL- It's a magic towel chills instantly. Simply soaking-wring out and snap it, just a few seconds the chill towel will keep cooling for several hours and reactivate the chilling by repeating the steps. It is soft, lightweight, super absorbent, chemical-free, provides UPF 50 sunscreen protection and can reduces body temperature up to 30 degree
MULTIPURPOSE ICE COOL TOWEL - It could be a great sports towel for running, cycling, workout, bowling, golf, yoga, gym, fitness; cold therapy for fever, heat stress or hot flashes; towel for quick cooling down when working out in the summer heat or in hot environment. Can be used as head cover, sweatband, cooling bandana, neck wrap or scarf and more just as you like. Could be a perfect summer gift ideas for sports fans and outdoor workers and even for pets
PREMIUM MATERIAL AND ECO-FRIENDLY- Your Choice cooling towels are made of high-density cooling mesh fiber, which is super absorbent, breathable and hyper-evaporative. This towel is a physical cooling by the evaporation of water molecules. Any ole cotton or microfiber towel would work, but not as well design to maximize evaporative cooling or comfort
BONUS REUSABLE CARRYING BAG WITH CARABINER CLIP - With a reusable mesh cloth bag, it's easy for you to carry the chilly towel when travel, camping, hiking, rock climb, golf trip or any outdoor activities. It is ultra compact, can be easily fits into a gym bag or travel luggage. The D-shape carabiner clip come with the storage bag also makes it convenient to hang the cooling towel out of the backpack or sports bag
100% SATISFACTION GUARANTEE - High-quality is guaranteed for all Your Choice towels. We have a 12 Month Full Money Back Warranty for our products if you are not completely satisfy with your purchase. Just Click the ADD TO CART Button and Get Your Choice Cooling Towel with Full Confidence RIGHT NOW! You just need a towel to get yourself cool down and comfortable in the hot season with Zero Risk!
Publisher: Your Choice
Details: 1. Instant cooling and continued cool feeling, just get towel wet - wring out water - snap it a few times, then you will get it cold. Once it gets warn, as long as the fabric stays moisture, you can snap it again for re-cooling. Or you can repeat the first step for re-cooling.

2. Fast and effective way to cool you down from the unbearable heat in hot summer days. When it's wet, it can effectively reduce the body's surface temperature of 20% -30%. No matter you're playing ball games, doing exercise, training at the gym, taking part in outdoor sports, working outside, or even get a fever, it would be a great towel for your fast cooling down.

3. Lightweight and compact, makes it easy to carry around you and great for travel. Solf and breathable material brings you a comfortable feeling and will not harden even when it dry out.

4. Absorbency, it can absorb your sweat quickly when it's dry and has almost 4 times absorbility than its own weight.

5. Compact and lightweight, you can around or tie it on neck, put it on head, drape it on shoulder,wrap it on wrist or any way you like to hold it.

6. Chemical-free, this cooling towel is a physical technology, no chemical additives, no odor - Healthy and Environmental. Machine washable, and it wouldn't reduce the towel's cooling effect.

7. This Cooling Towel would be a Great Cool gift for your family, your friends and anyone who lives in the hot weather places and the sports enthusiast etc.

Your Choice Cooling Towels would be a thoughtful Gift for Sports Lovers in hot summer!
UPC: 799695345311
EAN: 799695345311
Package Dimensions: 8.6 x 5.5 x 0.7 inches